Room Type - Bed in a Shared Room
What is a Bed in a Shared Room?
A "Bed in a Shared Room" (also known as a "Dorm Room") by TravelStay Standards is a room with multiple beds in it where you book only a certain number of beds, and therefore may be sharing the room with other guests. Shared rooms are typically found in hostels and may have between three (3) and twenty-four (24) beds. Unless otherwise indicated, the room will be "mixed sex". Some accommodations will have availability in either a Male-Only or Female Only dorm. (Be sure to review the specific room details prior to booking.)
If you are looking for a shared room (whether with private bathroom or shared bathroom facilities), you can set your search results to display just "Bed in a Shared Room". Keep in mind that, depending upon availability, an accommodation may not have Shared Rooms available and this may limit the number of results that you receive. (Some accommodations may have special offers on other room types (e.g. private Single, Twin, Double rooms, etc.) that might be just as affordable as a "Bed in a Shared Room". If you can't find what you are looking for when selecting "Bed in a Shared Room", try adding in other options or choose All Room Types. See the images below for more details.
Setting your search results in this manner will show you ONLY rooms with with this availability for these dates.
Not finding the availability that you are looking for? Another option is changing the Room Types from within your Search Results: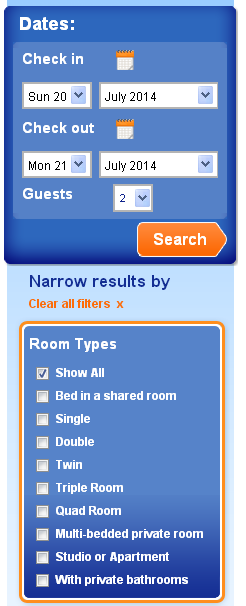 Here, you can view only those room types you wish. If you wish to see ALL room types with availability, leave your results on Show All.
When booking for multiple guests in a Shared Room, TravelStay cannot guarantee that all guests will be in the same room (especially in the case of bookings very near to the arrival date). Accommodations offering Shared Rooms do attempt to keep you in the same room, but this is not something that can be guaranteed.
Travelling as part of a group and wanting to be in the same room? TravelStay recommends that you book a Multi-Bedded Private Room. This room type assures that all guests are in the same room.
Travelling with a child? Most accommodations offering Shared Rooms have strict regulations regarding children in a shared room. See the following Help Page for details about children: Travelling with Children